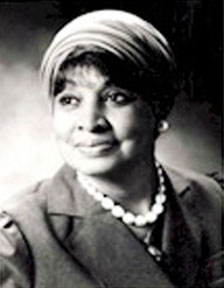 Throughout February, the Democrats will present an ongoing blog series celebrating African American heroes, both past and present. Staffers at the Democratic National Committee and Organizing for America have been asked to write about influential African Americans in our country's history and leaders who continue making contributions today.
In 1971 C. Delores Tucker became the first African American secretary of state, representing the Commonwealth of Pennsylvania until 1977. During her tenure as secretary of state, Tucker established the first Commission on the Status of Women.
Tucker had a long history in the Civil Rights Movement. Her activism included participating in the 1965 march in Selma, Alabama, alongside the Rev. Dr. Martin Luther King Jr. Tucker was an astute fundraiser for the NAACP. The co-convener and a founding member of the National Political Congress of Black Women (the "Political" later dropped from the name), Tucker became chair after the retirement of Shirley Chisholm. She was a proud member of the Democratic National Committee and served as chair of the DNC Black Caucus for 11 years.
C. Delores Tucker was catapulted into the activism spotlight when she voiced her controversial views on rap music and hip-hop culture.
I am a former New Jersey secretary of state, and I stand on the shoulders of C. Delores Tucker, who paved the way with her government service and words of encouragement. As I look back, my heart is comforted to know that my journey has been made easier because of this courageous woman.